Give
Mom's Pantry exists through the generosity of partners who empower our vision for eradicating "food uncertainty".
Join us!
1. Partner with Mom's Pantry
Unless otherwise designated, 100% of donated funds are used towards the supply of food and hygiene items for distribution to our guests.
$30 Feeds a Family for a month

Give your tax credit. Individuals can give up to $400 and those filing jointly can give up to $800.

Give to provide specific items: canned goods, fresh vegetables, toilet paper
Mom's Pantry is a Qualifying Charitable Organization through Christian Life Outreach in the state of Arizona. You can receive a tax credit up to $800 for contributions made to Mom's Pantry using the QCO code 21059. Contributions to QCOs and QFCOs | Arizona Department of Revenue
Become a monthly or annual partner with us!
2.
Donate food or other personal hygiene items.
Current Needs:
canned fruit

canned vegetables

boxed mac and cheese

canned soup

peanut butter

canned chicken or tuna

pasta

cereal

granola bars

toothbrushes

toothpaste

shampoo

bar soap

toilet paper
Donations can be dropped off at Mom's Pantry Wednesdays, Fridays, Saturdays and Sundays 9-1.
3.
Host a food drive
Mom's Pantry does all the heavy lifting. We deliver the food bins, flyers and a poster to your location. Click the link below to set up your food drive!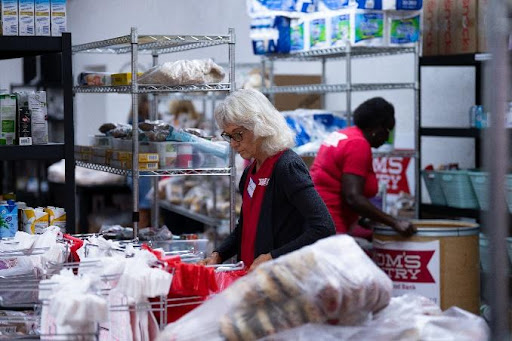 4.
Volunteer
Volunteers have a variety of jobs including packing bags, stocking shelves, checking in guests, and more. It's fun and rewarding to see the smiles on our guests' faces!
Volunteer hours are Saturdays 9am – 2:30 pm and Sundays 9am – 1:30 pm.
Children ages 9 through 15 years old can volunteer with their parent or guardian. Children 16 and older may volunteer on their own. All prospective volunteers must complete a volunteer application and consent form for themselves or their minor children.
After you complete the volunteer forms below, anyone 18+ will receive an additional email to complete a background check if we do not already have a current one on file. Once the application and background check are approved, we will contact you to provide info on how to sign up on the volunteer schedule.